How To Get A Gorgeous Sunless Tan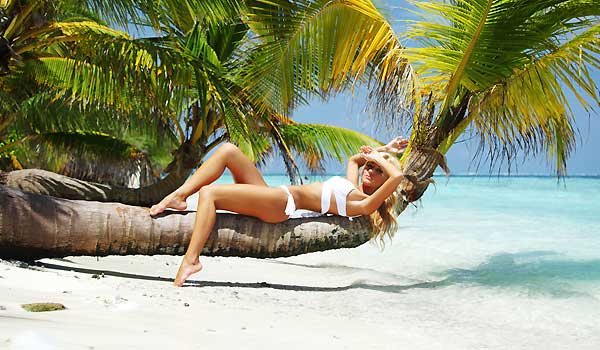 Summer is finally here and you really want that golden-tanned skin. One way you can achieve glowing skin without exposing your skin to the harmful rays of the sun is to use sunless tanning products. According to a recent study, one person out of every five will experience the damaging effects of skin cancer. According to the American Cancer Society, having five or more sunburns will double your chances of developing skin cancer during your lifetime. Sunless tanning is a safe and quick way to get a beautiful bronze glow without causing your body any harm. This article will share with you some great tips on how to get a natural looking tan by using the best product and application process.
Maybe you have used self-tanning products in the past and you were really disappointed with your results. The first sunless products had a tendency to leave you skin looking streaked and your palms were left with that horrible orange coloring. Those days are long over since today's products are not only better, but also have better application processes. Do-it yourself sunless tanning products come in various forms such as lotions, gels, mousses, sprays, creams, mists, foams, and towelettes. With any of these products that you choose to use, test a small, hidden area first. Wait at least 24 hours to see how happy you are with the results. If you are happy with the results, continue the process on the rest of your body that you want to tan.
Since people have different types of skin, certain sunless tanning products tend to work better on one type of skin over another. As a general rule of thumb, sprays, mists, lotions and gels work best on oily skin. With drier skin types, mousses, heavy lotions, foams and creams usually work the best.
Before applying any self-tanning product, it is always best to exfoliate your skin. By doing this, you will remove the dead skin from your skin's surface. Make sure you do not use a salt or sugar scrub which will leave an oily residue on the surface of your skin since this will it harder for the sunless tanner to absorb into your skin. By sloughing off the dry dead skin cells, you will diminish the amount of scaly patchy areas on your skin. An additional benefit exfoliation is that it will also promote a smoother application process which will result in a non-streaked, longer lasting tan.
Within twenty-four hours of applying a self-tanning product, it is important not to wax any area where you plan on applying a tanner. Waxing products will block the tanning process since the skin cannot absorb the tanner. Although you should not wax, you should shave away any unwanted hair before applying a self-tanning product. Shaving also exfoliates additional dead skin cells.
Even after exfoliating your skin, have you ever noticed how certain areas, such as knuckles, elbows and knees get darker than other areas of your skin? To minimize this discoloration, lightly apply moisturizer to areas that tend to get overly dark. The moisturizer will act as a barrier and keep these areas from absorbing too much of the tanner.
The best time to applying these tanning products is just before bed time. By doing this, your tanner will have enough time to completely absorb into your skin. Make sure that you wear old clothes to sleep in since sometimes tanning products will stain your clothing. If you are concerned about the palms of your hands getting stained, wear disposable rubber gloves.
If done properly, a sunless tan can look as natural as a one achieved by baking in the sun's rays. To achieve your ideal tan, continue to lightly apply your self-tanning lotion on a regular basis. With these products, you can attain a deep bronze tan or a light golden tan. Just remember, self-tans will fade, so repeat application as needed.
Having a great tan throughout the year is easy to achieve. Enjoy skin that looks as if it has kissed by the sun without baking your skin under the harmful rays produced by tanning beds or the sun. By following the advice given above, you will enjoy showing off your gorgeous, golden tan each month of the year.