Yummy Jackfruit Recipes For Vegans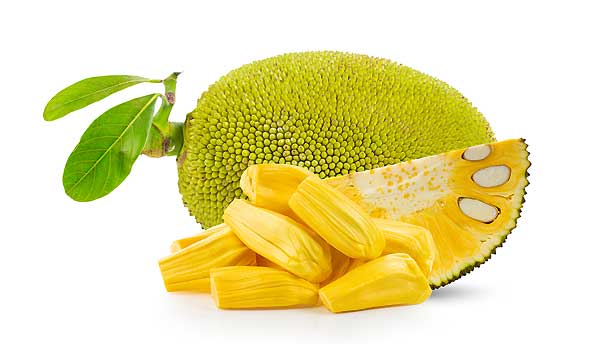 If you follow a vegan or vegetarian diet, you might be looking for some delicious, unique recipes. There are so many amazing fruits and vegetables, herbs, nuts, seeds, and lentils that will provide nutrients while also giving you yummy recipes, but sometimes you want something a little more.
One option is to add jackfruit to some of your recipes. This fruit is popular for vegans because it has the look and texture of meat, without having any meat in it whatsoever. It contains a lot of nutrients that meat has, like protein and vitamins, but no animals are harmed while cultivating it.
Even better, jackfruit allows you to make recipes like pulled pork sandwiches and grilled chicken that uses no meat products, but your friends and family won't feel like they are missing out.
The great thing about jackfruit is that it is super easy to use in the various dishes. You will cook it just like you would any other starch, like rice, pasta, or starchy vegetables. Similar to tofu, it picks up the flavor you cook it with, so this may be anything from adding it to chili as a ground beef alternative, to making your favorite barbecue pork dish with it. If you get the full fruit instead of a can of fruit, then make sure there are no seeds in it before you start cooking with it.
What Is Jackfruit?
When you see jackfruit when it is cut open, it has a pale color, so it will pick up any color that you cook with it. This is very similar to tofu, as when you cook it with teriyaki sauce, it turns a nice orange or brown color, making people question what meat it actually is.
Jackfruit is a type of fruit, naturally, that usually comes from parts of Asia. It is most commonly found in the South and Southeast area of Asia, where it is eaten on a regular basis. This includes areas like India and Thailand. The fruit is very starchy, so it can also be filling when added to different meals. In these regions, it is often served with sticky rice.
Other countries now have jackfruit available due to its popularity in vegetarian and vegan dishes, or just to reduce the calories in meat-based dishes. Jackfruit also sometimes comes in packaged food, like jackfruit noodles or chips. Jackfruit has a lot of fiber, so it has some health benefits in addition to being a good meat alternative, which you will read more about in the next section.
Health Benefits of Jackfruit
Jackfruit makes an ideal meat alternative, but that's not the only reason to eat this tropical fruit. It also has a lot of health benefits that add to the overall amount of nutrients you consume each day. If you are following a vegan diet, it is even more important to have jackfruit since it will replace some of the vitamins and minerals you are missing out on by not consuming meat, dairy, or eggs.
Vitamin C
There is a high amount of vitamin C in jackfruit, which is not uncommon for a tropical fruit. The vitamin C is going to boost your immunity and help keep you from getting ill. With enough vitamin C, you are able to boost your immune system from free radicals and hopefully avoid getting a severe cold or even the flu. It also contains a good amount of antioxidants, which will perform the same function for your body.
Protein
Jackfruit also happens to be a great source of protein, which is great news when you are on a vegetarian or vegan diet. While there are other non-meat alternatives that have protein, you may be looking for an easy way to boost it. Every time you use jackfruit in a meal, it is like having a piece of chicken or actual pork, but you are still not consuming meat. You can also use the jackfruit seeds, which contain most of the protein in the fruit, to replace lentils in certain recipes.
Phytonutrients
Phytonutrients are also in jackfruit, which contain unique properties to help reduce inflammation in the body and can help keep cancer away. These nutrients are going to protect and safeguard your body, reducing stomach upset and keeping serious diseases from affecting you.
Vitamin A
Among the different vitamins, vitamin A is one of the more important ones existing in jackfruit. Like vitamin C, vitamin A is an antioxidant, helping to protect you from illness and disease. However, it also plays some other important roles in your health. It can help tremendously with neurological function, helping to improve your memory. It also helps boost your vision and improve unhealthy vision, as well as helping with dry and brittle hair.
Potassium
Jackfruit also happens to have a good amount of potassium, which helps to support your cardiovascular system. When you have more of jackfruit in your regular diet, you are helping to lower your blood pressure and promote healthy cholesterol while lowering bad cholesterol. It can also help your sodium levels to level out. With a single serving of jackfruit per day, you are already at 10% of your daily minimum requirement of potassium.
1. Slow Cooker Jackfruit Recipes
Now let's get to the fun part: the recipes! As mentioned in a previous section, you can cook your jackfruit just like any other starch. There are an endless amount of ways to cook jackfruit, from baking it to cooking it in a pan on the stove. However, if you want to make things a little more convenient for yourself, why not use the slow cooker?
Jackfruit actually works really well in the slow cooker, allowing you to run errands or go to work while your vegan meal is cooking. Here are some different recipes that use jackfruit in them, and contain no meat whatsoever.
Jackfruit Jambalaya
This first recipe is going to use jackfruit flavored with the classes spices and herbs that would go in a jambalaya, whether you typically eat it with pork or beef. You will have the jackfruit along with some yummy rice and veggies, making it a healthy and vegan option. To make jambalaya with jackfruit, you will add a tin of drained jackfruit, vegetable stock, brown rice, celery, cauliflower, sliced tomato, and tomato puree. You also need seasonings like oregano, basil, and garlic. To spice it up, go with some chili flakes and cayenne pepper. Cook everything in the slow cooker, or leave the rice until the end and use a regular rice cooker for that portion.
Spicy Jackfruit Enchiladas
Here is another jackfruit recipe for the slow cooker that also has a little kick. You are using jackfruit instead of chicken for enchiladas in the slow cooker, plus some salsa Verde and vegan cheese alternative. You will layer tortillas and filling in the slow cooker instead of rolling them up, which turns it into a type of enchilada casserole. It is also a very simple recipe. You just need your tortillas, mild salsa verde, jackfruit, and some vegan cheese, depending on the type you prefer. For more veggies, you can also add in some black beans and corn.
Jackfruit Adobada Tacos
These tacos turn the jackfruit into something that tastes just like pork, but also has a Mexican flair. What you want is a tin of jackfruit that is drained, along with some pieces of pineapple, orange juice, and white vinegar. You want to season it with some mild or medium chiles, depending how hot you want it, and achiote paste. When serving them, you also need some cilantro, lime wedges, and of course the tortillas for the tacos.
2. Faux Pork Jackfruit Recipes
When you begin looking at jackfruit vegan recipes, you will notice that a lot of them contain 'pork'. Of course, the jackfruit itself is being used as a pork substitute. Its texture and the fact that it can easily pick up the flavors of pork is what makes it perfect for this purpose. Here are some different jackfruit faux pork recipes you might want to try out.
Pulled Pork
This is one of the more common ways to use jackfruit in recipes, particularly in pork recipes. The starchy fruit is perfect for creating a pulled pork meal, whether you eat it on the side of veggies, or you have it in a taco or sandwich. For this dish, you typically want to use a can or two of young jackfruit that was packed in water, along with plenty of seasonings like garlic, chili powder, paprika, and cumin. Add salt to pepper to taste, and also use some onion, olive own, and brown sugar, which gives it the added pulled pork flavor and consistency with the sauce. You can heat it all up in a saucepan since you aren't trying to cook raw meat for the faux pulled pork.
Pineapple Pork
This is another variation of the traditional pulled pork recipe. It is also going to be similar to pulled pork, but with a tropical twist by adding some pineapple to it. You want to use your canned jackfruit, along with brown sugar, liquid smoke, cornstarch, and Dijon mustard. Add to this some pineapple juice and pineapple tidbits with juice. You can cook it in the slow cooker or cook it a little faster on the stove. This is really great for a sandwich.
Jackfruit and Veggie Wraps
Why not try a wrap instead of a sandwich? You can use jackfruit with black beans and veggies for a filling and healthy wrap. This is basically an alternative to pulled pork and beans. In addition to your jackfruit, you want some black beans, chili sauce, garlic, ground cumin, brown sugar, tomatoes, and corn. Heat it up over a stove with some onion, vegetable oil, barbecue sauce, vegetable stock, and paprika for added flavor. You can also make a veggie coleslaw to go with it using cabbage and shredded carrots.
3. Faux Chicken Jackfruit Recipes
Not only is jackfruit excellent for making your favorite meatless 'pork' recipes, but it can also taste just like chicken. If you used to eat chicken before going vegan, there might be some things you have been missing. You can try out some of the recipes below or put together your own jackfruit faux chicken concoctions.
Fried Chicken
Perhaps when you were still eating meat, you loved fried chicken. Well now, thanks to jackfruit, you can have something that tastes just like it. As with most jackfruit recipes, look for a can of jackfruit packed in either water or brine, that is a young jackfruit. This will work best for this recipe. The jackfruit itself will be flavored with salt and pepper, garlic, basil, and paprika. Like all fried chicken, you also want to have some breading. This has many of the same ingredients, including basil, salt, pepper, and paprika. You also need flour, dill, and some soy buttermilk. Fry up your 'chicken' in vegetable oil for the best flavor.
White Bean Faux Chicken Chili
For a white bean chicken chili using jackfruit, you can get it cooked in about an hour. This is perfect on cold days or just when you want something not too difficult that reminds your family of their favorite comfort food. While this chili can seem intimidating because it has a lot of ingredients, it really is as simple as adding everything to the pot and cooking it together.
You want to get a good texture by using jackfruit, so use both olive oil and avocado oil. You should also add celery, bell peppers, onion, white beans, bell peppers, and vegetable broth. For the liquid, you need plenty of water and white wine. Season your chili with sea salt, pepper, cumin, sage, oregano, parsley, cilantro, and your choice of spice like paprika and chili powder. To thicken it up, a little bit of cornmeal added to water works perfectly.
Jackfruit Chicken Salad
You can also make chicken salad to eat in a wrap or between bread slices as a nice sandwich. Pretty much all other ingredients aside from chicken and mayonnaise can be used in this chicken salad so that it tastes just like a real chicken salad, but this time using jackfruit.
You need to use jackfruit that comes in the can, along with small pieces of apples, walnuts or pistachios, vegan mayonnaise, and cranberries. Use dry soy curls, thyme, salt, and pepper as well. You can also add other nuts or fruit if you prefer. Mix it all together and add to your vegan bread of choice.
4. Spicy Jackfruit Recipes
If you are looking for something with a kick, these recipes are perfect! They contain many of the traditional jackfruit recipes, but with a little spice to them. Plus, you can control how spicy they are depending on who is eating them, by reducing or adding to the spices and seasonings being used.
Chipotle Jackfruit Tacos
Chipotle is an excellent seasoning to use for spicy recipes, and it goes great with jackfruit. You can make tacos that taste just like pork tacos, but also have some garlic and chipotle seasoning. For these tacos, you want to use jackfruit that comes in the brine, along with an onion, chipotle peppers, and jalapeno peppers. Add more seasoning with salt, pepper, garlic, and adobo sauce. This is going to control a lot of the heat, so use a little less if you want it on the mild side. You also want a sauce made with chili powder, coriander, oregano, and cumin, with a little ketchup as well.
Even your friends or family members who don't follow a vegan diet will love these spicy tacos! Serve with guacamole for the vegans, or sour cream and cheese for those who eat dairy products.
Curry Jackfruit
This is a fun dish that is spicy and uses curry, jackfruit, and chickpeas. It is vegetarian and vegan-friendly, and can be customized with different seasonings or adding more veggies to it. The basic recipe calls for jackfruit in brine, garlic powder, allspice, salt, pepper, thyme, curry powder, and coconut oil. You can also make your own curry sauce with chiles, garlic, onion, carrots, curry powder, potatoes, thyme, coconut oil, and allspice. This is all ground up and heated until it makes a thick sauce for the jackfruit.
Jackfruit and Bean Tostadas
Here is a spicy jackfruit recipe that has a nice southwestern flair. Aside from the drained jackfruit, you want to use lemon juice, garlic, cumin, black beans, avocado, and red chili flakes for added spice. You can serve it with corn or make an actual corn salsa with corn, tomato, onions, and seasonings.
5. Jackfruit Sandwich Recipes
You can use  jackfruit for any type of sandwich you like, from the pulled pork sandwiches, to making just about any type of fried or breaded chicken sandwich. Pulled pork isn't the only type of sandwich you can make with jackfruit! Think of your favorite meat-based sandwich, and you can definitely use jackfruit to transform that recipe into a vegan option.
Barbecue and Mango Sliders
The first type of sandwich is actually a slider, so you can eat more than one completely guilt-free! Not only is this a jackfruit sandwich that is vegan, but it also happens to be gluten-free, so there is another great bonus for you.
The main component of the recipe is in the homemade barbecue sauce. In this, you are going to use a lot of ingredients, but don't worry; it isn't difficult to make! For the sauce, combine some olive oil with apple cider vinegar, Dijon mustard, liquid smoke, and lemon juice. Then you want tomato sauce to thicken it up, brown sugar, mango, garlic, onions, chipotles chiles, coconut sugar, cumin, salt, and pepper. A little vegan Worcestershire sauce also works well.
For the sandwich portion, you will make your jackfruit with salt, pepper, lime juice, and jalapeno. Mix this with some white and purple cabbage to make an easy coleslaw, and mix this with your barbecue sauce. Put it in between some gluten-free slider buns and you're ready to go.
Tuna Melt
Have you been interested in a tuna melt, but because you're vegan, you don't eat any form of seafood? If so, you're in luck with this fun sandwich! The tuna melt uses jackfruit in place of tuna, which looks and tastes just like tuna from the can.
You will use jackfruit from the can, packed in either brine or water. You should not use jackfruit packed in sugar, and you want to rinse and drain it as well. Combine white beans that are cooked as they mash well, onion, olive oil, garlic, salt, pepper, and dried tarragon. Go ahead and add in any other seasonings you like. You will then need to mix it all together and get it to stick like tuna salad by using vegan mayonnaise of your choosing.
Once your tuna salad is done, just put it in between 2 slices of vegan-approved bread with some vegan cheese. Heat it up on a skillet and you have yourself a faux tuna melt made with jackfruit.
Fried Chicken Sandwich
You can make this easily by using the fried chicken recipe using your jackfruit, seasonings, and vegan breading for this sandwich. Use thick bread for the fried chicken or a roll, looking closely at the ingredients to make sure it is vegan-approved. Lettuce and tomato, with a vegan mayonnaise spread on the bread finishes off this sandwich.
Meatball Sub
You can turn jackfruit into meatballs by putting it through the food processor, then mixing in seasonings, bread crumbs, and herbs to season it just like meatballs. You also want to make some barbecue sauce or use a jar of barbecue sauce if you prefer. Cook the meatballs on the stove right in the sauce. Add them to a roll with some vegan cheese and coleslaw.
Parmesan Chicken Sandwich
Chicken parmesan is a popular Italian sandwich, and can be turned into a vegan option with jackfruit. Make the chicken patty with the same type of breading as the fried chicken, but in a thin patty form. Fry it up, then cover it in tomato sauce and add some vegan mozzarella cheese. Put them in a roll to finish it off.
Try out some different recipes for yourself to see what you enjoy cooking with your jackfruit.