Benefits Of Using An Exercise Ball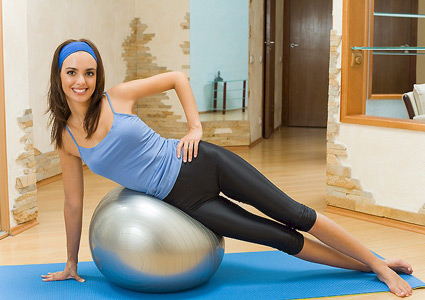 There are many benefits to using an exercise ball in your workout routine. One of the main reasons people don't work out is because they don't have the time to make it to the gym every day. So, why not work out at home? You can use an exercise ball to work out different parts of your body; and the exercise ball is easy to use. You'll start to see results sooner than you think when you use ball exercises as part of your routine to achieve good health. Here are some things you'll need to know before you get started.
First of all, you'll want to make sure that you know which home exercise equipment you want to use or purchase as part of your workout routine. The exercise ball is very affordable and you can use it for abdominal exercises as well as strength training, so you may not have to purchase additional home exercise equipment. If you already have a treadmill, you can use this in conjunction with your exercise in order to combine cardiovascular and muscle toning exercises.
It's a good idea to 'practice' a few times on your exercise ball before you start a strenuous exercise routine. For instance, you can do a few sit-ups or squats using the ball before you do a complete set of exercises so that you can keep your balance on the exercise ball and avoid injury. You may even want to consider getting a personal trainer for a few months when you start your ball workout, so that you can see the benefits of the exercise ball more quickly.
If you're ready to get started, you can purchase an exercise ball at most sporting good stores, such as Sports Authority, Dick's Sporting Goods, or Champs. You can also get exercise videos that will teach you how to use the ball for abdominal exercise or weight loss. In addition, if you've already joined a gym, you can visit the shop at your local gym (like Bally's or Gold's Gym) to find the exercise ball that is the right size for you.