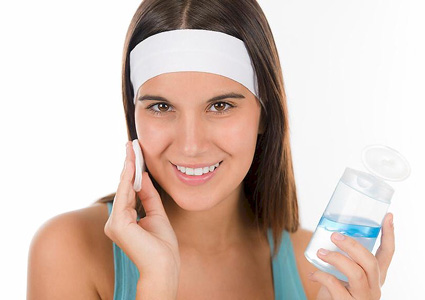 If you've never had to worry about breakouts until you became an adult, or thought that your days of dealing with blemishes were over after your teen years, you may not know what to do when it comes to adult acne. But, not to worry–there are plenty of affordable ways for you to find serious skin care that will treat adult acne. And, you can even make a few lifestyle chances that will clear your skin up in no time at all.
When you're searching for acne treatment, it can be tempting to purchase products that promise that your skin will be clear in a matter of days, or that you can return the product if you're not getting the results you need. However, when it comes to adult acne treatment, it's best to select facial skin care products that will work well with your skin type and provide your skin with moisture as well, so that you won't make the breakouts worse. If you have very sensitive skin and are experiencing adult acne, you may want to take a look at natural skin care or organic skin care products in your area.
Organic skin care can be a helpful adult acne treatment since the ingredients are natural, and tend to be gentler on the skin. These products are usually free of 'filler' ingredients as well, and include soothing botanicals such as witch hazel and aloe that will help to protect your skin from the sun and other free radicals that may cause adult acne.
Getting facials on a regular basis can also be an effective acne treatment. Facial skin care is important for 'waking up' the skin, removing dead skin cells, and treating blackheads and whiteheads, especially if you have a busy schedule and don't get much rest. Facials are also a great way to reduce stress, stress and lack of sleep are factors that can contribute to adult acne.
If you haven't experienced lots of breakouts in the past and are trying to figure out what is causing your adult acne, you may want to pay special attention to the hair products or cosmetics you are using–chances are you're having an allergic reaction to a product that you use on your hair or skin, which can cause blemishes. You should also try changing your pillow case often, so that the dirt and oil from your hair or face will not be on your skin during the night. Washing your clothes or bed sheets with a mild or fragrance free detergent is also a great way to make sure that your skin is not irritated.
For more information on finding the skin care system that will best treat your adult acne, or for advanced adult acne treatment options, be sure to visit your local dermatologist.